Sunday, February 24, 2008
Superfriends ACTIVATE!
On Saturday I met up with Captain Morgan, Teamdicky, Big Worm, and The Wonderboy for an excellent ride. I ended up bonking AND crashing but hey, sometimes that happens. We met at 10AM at the Fish Hatchery and followed an excellent route: Cat Gap->Long Branch->up to Gloucester->Cathey's Creek->Butter Gap->Long Branch->gravel to->475 to Gloucester a 2nd time->Pilot Mtn. Road->Farlow Gap->Daniel Ridge->Davidson River.

The (seasonal trail) climb out of the fish hatchery is wide singletrack and immediately starts to climb climb climb. I tried to keep my heartrate in check and breathing nice and easy so I was in the back right away. Rich, Jason, and Bill were ahead while Josh and I traded places again and again. Up through the fields and we continued up Long Branch. Long Branch is a fun climb with a few downhill rollers that keep spirits high. We stopped at the gravel connector for a quick breather then right away headed up the final climb to 475. Up to Gloucester Gap then Left on Cathey's Creek Rd. The gravel road continues to climb up Cathey's Creek for about a mile then you get a super fast descent to the turn to Butter. I started to feel the first signs of fatigue on the relatively easy climb to the gap.
We lined up for the first real descent of the day with me out front and Jason nipping at my heels. I blew the left turn but we figured that out pretty quick. The descent down Butter took me to that place that only mountain biking takes me. Clear mind, totally in the present, and I don't hear that damn whistle in my ears. I also came into a series of step downs a little too hot and nearly ate shit. I saw the drops, lifted the front wheel and wheelied through with the bike WAY out in front of me. I set the front wheel down close to the last step and snagged the rear wheel on the waterbar which nearly sent me over the bars. I pulled it back in, didn't wreck, and decided to scrub off a little speed for the rest of the descent.
Once again we climbed Long Branch to the gravel connector. Down the connector to the lower half of 475. I was wondering if that was a good move as we lost a lot of elevation in an attempt to not climb over the top part of Long Branch. Was it harder to take the gravel? Of course not. We made it to the upper trailhead in no time at all. My legs were really feeling the time off the bike and I knew the climb up Pilot Mountain Road was not ging to be any fun at all. It was like my penitence for making all those folks climb it last weekend. I haven't had to implement the time-space continuum trick in a while but I definitely did it for that climb. In other words, keep moving forward. time will pass. you will get there eventually. space out. enjoy. and whattayaknow? there's the second gate, here's Captain Morgan riding to the final gate and back down to me and up to the final gate and back down to me and up to oh man…. there's the top. As soon as I was again on trail my legs loosened up and I was having a good run at it. My eyes were pinballing around on the descent to the descent and I had run out of water so another break was needed at the Farlow trailhead.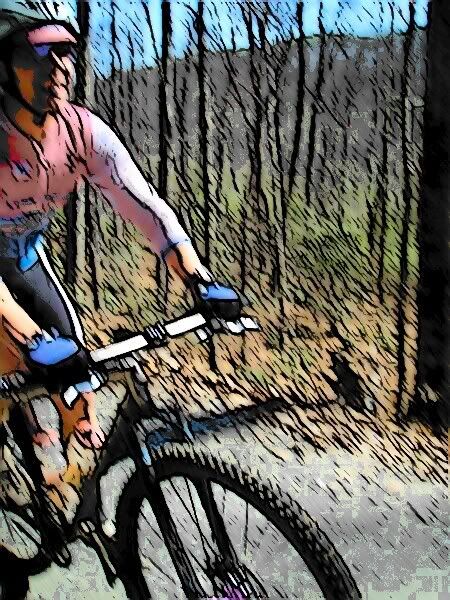 Farlow is easily the most technical downhill in Pisgah. There are faster trails (Heartbreaker, Big Creek, Pilot Rock,…) but there is nothing like the top to the first creek on Farlow. My vampire eyes came into focus and I cleaned all the way past and over the log drop to the first creek. I let out a whoop of joy after that one. The trail was in perfect condition, just wet enough for traction, dry enough that it didn't break free. I saw the lines over the rocks and through the shoots….. I felt like superman. We crossed the creek and were on the sidehill where the creek is running on the right and a simple log crossing was up. No problem. Oh no, big problem. I got the front wheel over but ummm something happened and I was over the bars and I slammed onto my chest with my arm under me. I knocked the wind out of myself and rolled around in the dirt for a minute. I think the last time I went down that hard was on heartbreak with Rich…. Anyway, the woods suddenly felt much much larger than it did moments before. Once I was back on the bike I let everyone go ahead. Farlow goes on and on and on….. and my bell was rung. My quads started locking up and I was making silly mistakes. Jason held back and made sure I got over the creek crossings safely. We made it to Daniel's Ridge at the 4.5 hour mark and Bill then Josh took the lead. Usually the Daniel's descent is something to rave about, the highlight of a ride. On this day, it was the final chapter of a very long book. We saw no less than 4 groups of hikers and were at the bridge just like that. Davidson River trail was the final footnote and back to the vehicles in a little over 5 hours. Great ride guys. Thanks. I can hardly move today.
Oh, then the guys came back to Erinna and my place and we went to the Bike Love Party.
OH! While we were out doing all that what was Erinna doing? Running to 5th place in the Black Mountain Challenge 40 MILE running race. From Black Mountain to Mount Mitchell and back. Awesome.
wait wait! I didn't mention: We were all on singlespeed 29ers. I had the only suspension fork. Rich rode fixed gear. No coasting. No rear brake. Monster.
at
Monday, February 11, 2008
Timewarp=Y2K
I got out on the bike yesterday for a ride with great long-time friends. Ian 'The Pony' L., Dennis 'Race Nazi' H., and I hit a solid 2 hours at Bent Creek. It was like old times. Ian used to be my roommate and Dennis used to take up space on my couch. I think it goes without saying then… the three of us have gone on many, many rides together in the past. Anyway, Dennis had done a 9+ hour ride the day before and Ian had drank 9+ Singapore Slings the night before, and I hadn't been on my bike in 3 weeks soooooooo…. We had a fun filled day of farting around and goofing off while getting a little excercise in. I love mountain-biking. Even when we all had our excuses for not doing well we all had big smiles across our faces, saw things we would have otherwise not seen, and got our daily dose of sunshine and accelerated heartrates. The route doesn't really matter this time. Let's just call it two hours in Bent Creek. Social pace.
Here are a couple photos: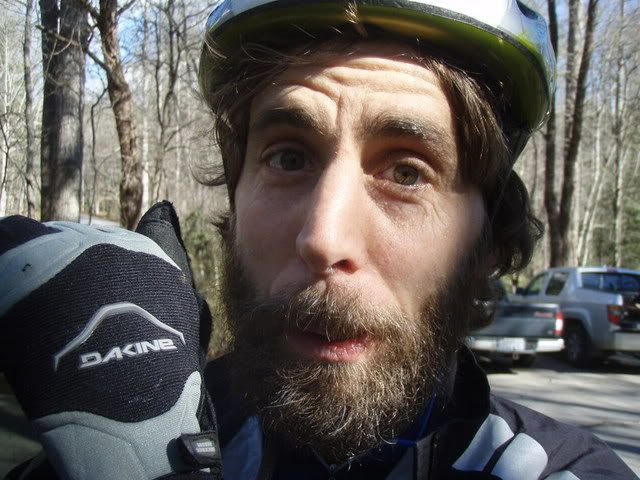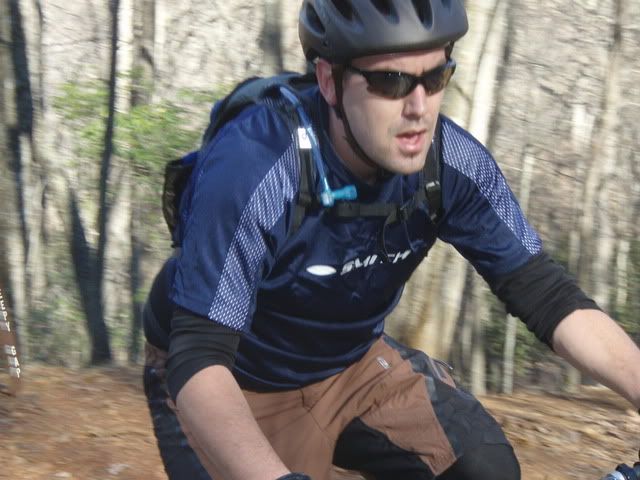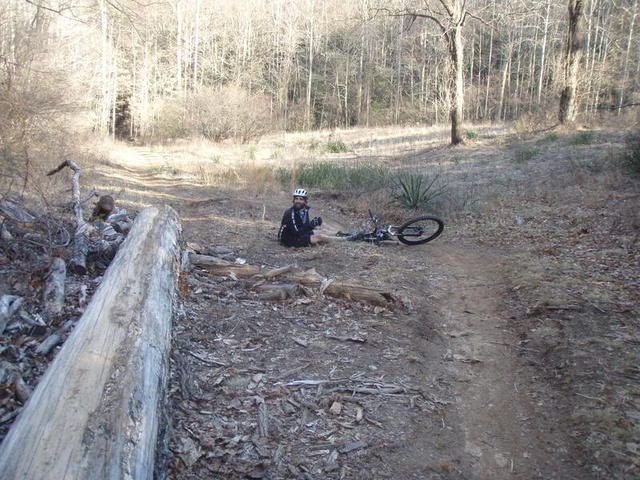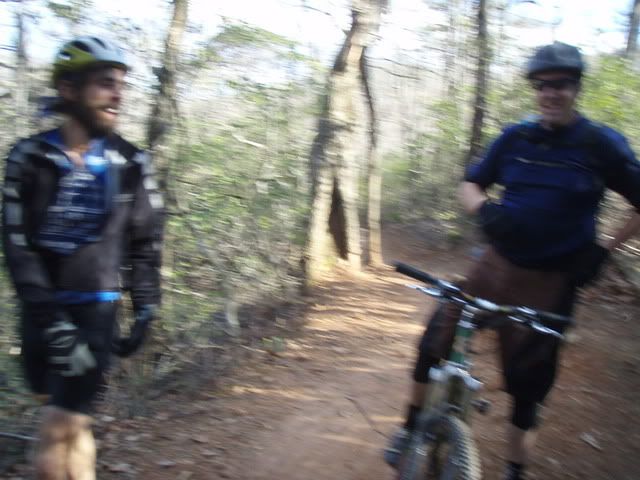 at
Tuesday, February 5, 2008
Run Club Run
There were two events going on this past weekend,
one
that's been going on for years and years that I've attended no less than 5 times, and one that had it's inaugural 'running'. Erinna and I decided to go for the
new event
this year, the Run Club Run. Teamdicky thought this up a few months ago and my first response to the invite was something along the lines of 'HELL NO!'. Well, after a bit of thought about it (and prodding from Erinna) I got out there and started to prepare. Two and a half months later I felt pretty good about my running prowess but alas, I probably shouldn't have been there anyway (more about that later).
Erinna and I got up super early Sunday morning for the unusual task of driving FROM the mountains TO the flatlands for an athletic event. I felt like absolute crap but after some 'come on, get in gear' prompts from Erinna we were off. We arrived at Crowders Mountain State Park around 9:30 and found a rag-tag crew getting ready for the run. The plan: Start at the parking lot in-between the two peaks, run to Crowders, run back to the lot, run to Kings, run back to the lot. About 10 miles, about 3500 feet of climbing. After a quick photo Rich said 'Go!' and we were off and running.
(click=make big/see everybody)
The group quickly split into two. I kept my pace nice and slow for the warm-up and by the time we hit the steep stuff I was feeling great. There was some seriously technical trail along the way that let me slow down and catch my breath. I lost the trail a couple of times but after a moment or two of wandering around I found it again. Crowders and Kings are strange little not-mountains that jut out of the surrounding flatlands and provide amazing views. I had dropped the rest of my group and found myself in that no-mans land in between the fast guys and the slow guys. At the top I was looking at the map when a hiker asked 'are you looking for the runners?' and pointed me in the right direction. Next was 2500 steps down the backside of the hill and then a steep gravel road down to the turn around point. I found myself gaining speed, taking longer and longer strides, and suddenly going WAY too fast. One misstep would have sent me on a 50 yard belly slide.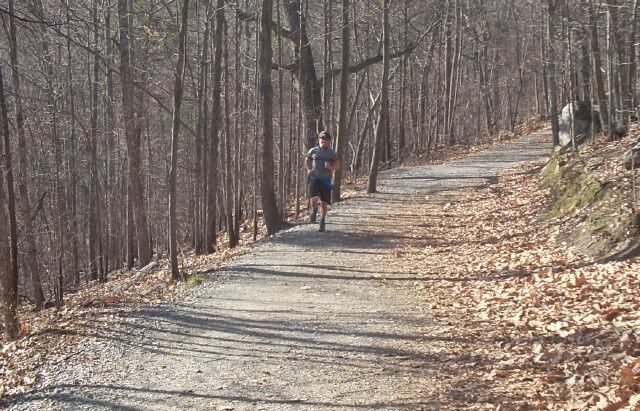 (Thanks for the photo Rich!)
A little before the turn around I saw the fast group headed back up the hill. I got to the bottom, turned around, and went to the task of retracing my steps. The gravel road had me walking a bit but seeing other runners still heading to the turn around made me push hard. I got to the steps and took them two at a time and found myself on top quicker than I had imagined. Back through the tech-top and down the steeps back towards the parking lot. During the downhill my belly started to rumble (in a NOT hungry way) and my knee started to hurt a little but I was excited that I was doing so well. I was feeling great when I arrived at the turn to Kings. However, I decided it would be a good idea to head back to the parking lot for a drink of water before heading off for the next leg. My belly was feeling worse and worse but there was no-one else around so I decided to head back up the trail. Just then I noticed Bill laying in the grass, shoes off, soaking up the sunshine. What a great idea! A very quick reconsideration and I was done. Run Club Run number 1, done. Great idea Rich. Thanks for lighting the fire under my feet. I would have never guessed I would enjoy something like this so much.
So, why shouldn't I have been there? Well, two nights before I picked up Erinna from work at midnight and we went out for a drink. We each had two beers, including an imperial stout, at the new Rocket Club here in West Asheville. Well…… Saturday morning we BOTH woke up with shall we say, food poisoning-like symptoms. By the end of the day I was also showing flu-like symptoms to boot. On Sunday morning I was dehydrated, way under-nourished, and with a weak belly… Erinna was about 8 hours behind me on the flu so Sunday morning she was ready to go… but Sunday night she said to me in a pathetic-sick-apologetic-tone 'I'm sorry I made you go'. Awww, that's OK sweetie, I'm glad we went.
at