Sunday, June 11, 2006
HOLY CRAP THAT WAS HARD
HOLY CRAP THAT WAS HARD.
Well, any day in the woods is better than a day not in the woods but today… today was an exceptional day in the woods. Sophie and I started at Turkey Pen trailhead then S.Mills River-> Mullinax->Squirrel Gap->S. Mills River->Connector road to Buckhorn Gap trail->Black Mountain trail->Turkey Pen Gap trail all the way back to the trailhead. It was only 20 miles with 4500 feet of climbing but good lord… that wasn't an easy 20 miles.
We started at 10:15 with a nice quick descent out of the parking lot, down to the river, and over the bridge onto S. Mills River trail. That trail is wide open with some pretty steep spots on the way to Mullinax. I was just getting into the groove, just warming up, climbing away and this guy flew over the lip of a whooptie up the trail, saw me and the dog, and tried to force the wheels back to the ground. He was not successful. He (I learned his name was Rick) crammed the front wheel into the ground and did an incredible superman over the bars right towards me. In a flash I saw the guy go over, his bike came hurtling right at me, he hit the ground, started to summersault down the trail, and his back wheel missed my head my inches. I had no time at all to react and was almost taken out right there. I instantly looked around and found Sophie unharmed and the guy ass over teakettle off the side of the trail. He got up, I franticly asked him if he was o.k., asked a bunch of other questions to make sure his head was still attached, and we parted ways. He had tweaked his back and toasted his front wheel but otherwise acted unharmed. That sure was exciting.
Look at the photo. My bike is laying right where I was when the wreck happened. He came over the lip right ahead of my bike. The marks on the ground right behind him are from where his bike came to a rest.
Next was Mullinax. Mullinax climbs and climbs and gets steep a few times and then climbs some more. There's a big washed out section that I walked on but otherwise I was feeling really good and the dog seemed to be having a good time, too.
Mullinax connects to Squirrel Gap trail. Squirrel is classic Pisgah singletrack. Rhodo tunnels, bench cut, climbing galore, log crossings, roots, rocks… Squirrel has it all.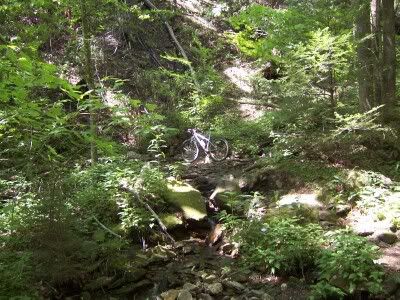 The trail goes THAT way!
I crossed paths with Litespeedchick and Litespeedchickshusband on the first section of Squirrel and for some reason didn't take their photo. Doh! Their bikes are the coolest. Ti hardtails with a mix of new and vintage parts. You can see they just replace high-quality parts with high-quality parts as needed instead of being tempted to buy stuff just to buy stuff because it's new.
Anyway, Squirrel Gap trail tops out at Laurel Mountain (the place, not the trail) then rolls up and down and twists and turns all over. There are sections that if you know how to 'pump' your bike you can go on and on without turning the pedals.
I stopped to filter water at Cantrell Creek. When I walked out I found a butterfly UNDERWATER. I reached in, grabbed it by the wings and set it on a rock. I set it aside so Sophie wouldn't step on it and it flew away! That was really cool. I didn't expect that at all.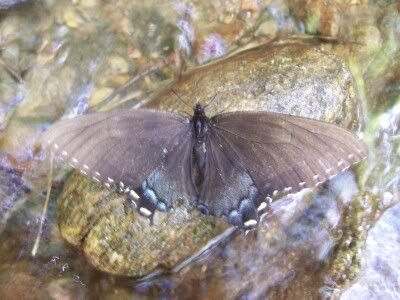 " />
After Squirrel passes Horse Cove it instantly feels more remote and overgrown. The trail gets even more tight and tech than the miles before.The trail finally spits you out at the Wolf Ford. Cross the bridge and the climbing starts again in earnest. This is where I saw one guy with two horses. The last human contact of the ride. 2 miles or so of connector road then a few miles of Buckhorn Gap trail to Buckhorn Gap. Not much to say about that trail except Sophie was slowing down a bit and was grateful for the little stream crossings where she got a drink and cooled off a bit. Oh! Wait! I saw a rattlesnake!
That was the first time I had seen a rattler this close. I was cruising pretty fast and this guy was around a corner. I slammed on the brakes and nearly endo'd right on top of him. Luckily I had a leash for Sophie. I tied her up and walked her almost 10 feet around. I tied her to a tree, walked back around to get my bike and he coiled up. Crap. After about two minutes or so he just slithered away and I continued on.
Following that relatively gentle climb we started up Black Mountain trail towards Clawhammer Mountain. I really felt good at this point and tried a number of the switchbacks going up. Up the steep stuff, over Clawhammer Mountain and then up up up and over Black Mountain. The trail gets insanely steep heading towards the top of Black and my legs were starting to feel a little rubbery when off the bike hiking. At the top there is that perfect spot for a photo. How many times have I been here recently? I don't remember but I have to stop and take a look every time.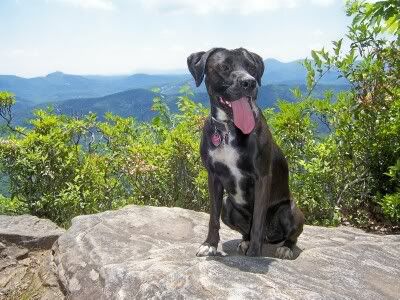 After the top the trail decends quite rapidly to Turkey Pen Gap trail. Sophie was looking a bit tired and we hadn't taken a break for more than a minute or two all day. I tried to get her to eat but she would not. We rested for a good 10 minutes.
Kick-Ass Bike
Kick-Ass Dog.
Turkey Pen Gap trail is freakin' hard. The first descent is unbelievably fast if you let it be. I kept in mind that I was probably not going to see anyone else all day and that at the other end of the trail was the end of the ride so I took it relatively easy. The climbs get very very steep and the descents are all equally so. There are five or six gaps to get through before the trail ends at the Jeep. I decided to stay on the bike and really push hard while climbing all the way to the end. I was told that if I kept up a 'Heartbreaker in five hour' pace that I should be able to pull off this ride in five hours. I really felt like I was taking it pretty easy most of the day so I was expecting to finish in close to six hours. To my suprise we pulled into the parking lot in 5:15. Sweet! What a great day in the woods. It was the first time I had ever done those trails in that route and it was Sophie's biggest day in the woods yet.
Cheers!
One last thing: I listened to Erinna's mp3 player (in one ear) all day. The playlist, in order, was as follows…
1. Benevento-Russo Duo live (start to Laurel Mtn.)
2. Sonic Youth ~ Sonic Nurse (Laurel to past Cantrell)
3. Phish ~ Rift (Horse Ford to Buckhorn Gap)
4. Flaming Lips ~ Yoshimbe Battles the Pink Robots (Buckhorn to Turkey Pen)
5. Blackalicious ~ Broken Arrow (Turkey Pen back to the Jeep)
at
Friday, June 2, 2006
Road Ride? Whatcha' talkin' 'bout?
Erinna and I just got back from a fun fast early morning road ride. We started at a few minutes before 6 am. Our route was pretty easy to follow, Erinna's two-hour ride: Clingman to downtown, Charlotte to Sunset, Sunset to Town Mountain via Old Toll. Town Mountain to the Parkway Southbound, past the Folk Art Center and to Biltmore Forest. Biltmore Forest to Biltmore to that road that turns into River Road to Amboy, State, Michigan, and back home! 2 hours, 5 minutes (I must slow her pace down by five minutes). Excellent ride on the Orange Multibeast with my sweetie. What a great way to start the day! 29 miles, 4500 feet of climbing, 2:05.
Here's a shot of Erinna at the Town Mtn Road / Blue Ridge Parkway intersection:
at